Knighthoods
Rutherford Knighthoods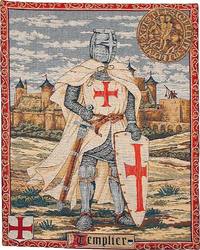 Sir Gerard van Ruddervoorde
Sir Gerard van Ruddervoorde AKA Sir Gerard de Ridefort (died October 1, 1189) was 10th Grand Master of the Knights Templar from 1184 until his death.
1 – The Ruddervoorde coat of arms survived until 1842 and is the coat of arms of Sieur Jan van Ruddervoorde (seal of 1356), with a mounted knight running to the RIGHT (now to the left). In the coat of arms before 1356 there was no knight in the first quarter.
2 - The coat of arms of Oostkamp (neighbouring village with which Ruddervoorde has fused (merged in 1970) : 2 x 3 white marlets on a red shield with a white fess.
3 – Sir Gerard de Ruddervoorde followed Thierry of Alsace, count of Flanders on his 4th travel to Outremer in 1164. Gerard entered service of King Amaury I of Jerusalem.
4 - The Seigniory of the Court of Ruddervoorde: 
1008 - Lambinus de Rudeford is mentioned
1110 - the parish of Rudeford
1128 - Lambert de Ridefort as a witness to count Thierry dí Alsace
1127 - 1154 more mentioning of the name Lambertus de Ridefort
1132 - Lambertus de Ridefort had 2 sons: Haket and Gerard (not the Templar) 
1154 - Lambert de Ridefort and his brother Eustachius as witnesses to bishop Gerald of Tournai and count Thierry dí Alsace
1230 - The seigniory of the court of Ruddervoorde belongs to Lamkin de Riderford after the death of his father Knight Haket who received it from the Dean of St. Donatian church in Bruges
Sir Gerard van Ruddervoorde was the younger son of a Flemish lord [possibly Lambertus de Ridefort], and, seeing no opportunity for success in Europe, joined the Second Crusade in 1146. Keep in mind that the Rutherford coats of arms display black martlets. The martlet is the martin or swallows of Palestine, and indicates that an ancestor had been upon a pilgrimage to the Holy Land, in addition to having been in the second Crusade. The martlet was used in the 12th century only by the Boulonnais family as an indication of birth order, i.e. the forth son of the Count of Boulogne. At the time of the Flemish introduction into Roxburghshire the bearer of that sign was Ernisius de Seaton [Seton] crossbowman to King Henry I of England.
After the failure of the crusade, he remained in the Holy Land, in the service of Raymond III of Tripoli. Raymond promised Lucia of Botrun to him, which would give him a valuable piece of land in the County of Tripoli, but Raymond later broke his promise when he was offered money by a Pisan merchant. Gerard then left Raymond's service and joined the Knights Templar. Around 1183 he became seneschal of the order, and in 1184 became Grand Master.
"The conflict is rooted in the dispute over who would marry Lucia de Botrun, the heiress of Botrun. Raymond III of Tripoli had promised Gerard de Ridfort the hand of the first suitable heiress in his country. But when the lord of Botrun died a few months later, leaving his lands to his daughter Lucia, Raymond ignored Gerard's claim and gave her to a rich Pisan named Plivano, who ungallantly put the girl on to a weighing-machine and offered the Count her weight in gold (Runciman 1952). Raymond's choice to offer the girl in marriage to the Italian merchant was at least partially based on the fact that Lucia is record as a plump little lady whose weight was recorded as ten stone (Robinson 1991), or 140.18 pounds. Plivano had gold to offer and Gerard had his personnel service. The choice then was easy considering the fact that Gerard was already in Raymond's service, and surely there would be another suitable heiress. Plivano and the Pisans were able to guarantee their dominance of the city of Botrun, Raymond was able to fill the coffers of the County of Tripoli, and Gerard de Ridfort would be able to marry the next heiress. At least it would appear as a simple decision for Raymond but the effects of Plivano taking Lucia's hand in marriage would set in motion a chain of events that would bring down a Kingdom. Gerard de Ridfort was outraged and left the service of Raymond, and secular life, to join the Templars. He would carry his anger toward the Count of Tripoli with him to the end." - Religious and Military Orders - Brad A. Sand and Carl Edwin Lindgren
Because of the broken marriage promise, Gerard held a grudge against Raymond for the rest of his life. In 1186, when Baldwin V of Jerusalem died, Gerard took the side of the royal court faction in the ensuing succession struggle, simply because Raymond was the leader of the baronial faction. Raymond opposed the accession of Guy of Lusignan, but Gerard and the Templars gave him the support he needed to counteract Raymond's influence.
In 1187 Gerard seized part of money sent by Henry II of England to be cared for by the Templars and the Knights Hospitaller. This money was part of Henry's penance for the murder of Thomas Becket, and was supposed to be spent at Henry's request, assuming he ever arrived in the kingdom. Instead, Gerard spent it raising mercenaries to defend the Kingdom of Jerusalem from Saladin. On May 1, Gerard and fewer than 100 Templars attacked Saladin at the Battle of Cresson; Saladin, however, had over 5000 men, and Gerard was one of the only survivors.
In July of the same year Gerard led the Templars at the Battle of Hattin. Saladin had captured Tiberias and Guy was contemplating a march on the city to retake it. Raymond advised him to wait for Saladin to come to them, since they were in a well-defended, well-watered position, and would have to cross a dry open plain to reach Tiberias. Gerard opposed this, probably only because it was Raymond who proposed it, and convinced Guy to continue the march. He was supported by Raynald of Chatillon, a fellow participant in the Second Crusade decades before, and a fellow enemy of Raymond.
The Crusaders ended up trapped on the dry plain and were massacred on July 4. Raymond escaped but Gerard, Guy, and Raynald were captured by Saladin. The rest of the Templars were executed but Guy convinced Saladin to set Gerard free. Saladin did so on the condition that Gerard would surrender Gaza to him.
In 1189 Gerard led the Templars against Saladin in the Siege of Acre. This time he did not escape, either dying in battle or being captured and executed by Saladin on October 1. - Dictionary of Military Figures - 2005 Enlexica, Inc.
Medieval Scotland
Sir Nicholas de Rotherford I (c.1200-c.1275) who witnessed four charters to Melrose Abbey in the latter part of the reign of Alexander II (1214-49), probably three under Alexander III (1249-86), another of land in Edulfiston (Eddeston) by Malcolm de Constableton and his wife to the church of Glasgow in 1260 and perhaps one in 1270 by Henry lord of Haliburton to Kelso Abbey. Sir Nicholas I who probably died some years before 1279 married before c.1226 an English lady, Euphemia daughter and heiress of William de Lisle, and through her came into possession of a dispersed estate in Yorkshire: Sutton, Morley, Wheldale, Austhorpe, Beeston, Drighlington and Norton in Wilberfoss. In 1235-6 he held two knight's fees of John de Lacy, Earl of Lincoln, and he had licence from Nostell Priory for a chaplain at Morley. He evidently had two sons who divided his inheritance, the senior taking the English lands and the younger - perhaps by a second wife - his Scottish estates.
Sir Peter de Rotherford, elder son and heir to Sir Nicholas de Rotherford inherited land from his mother and held the West Riding manor of Hickleton (Strafford wapentake) by 1279 when he presented a parson to the church there. It is unknown how he came into possession of Hickleton which earlier in the century was held by Ranulf de Neufmarche.
Sir Nicholas de Rotherford II (c.1235/40 - c.1300), younger son of Nicholas I, witnessed Patrick Corbet lord of Fogo's charter to Kelso Abbey between 1280 and 1295, a resignation by Richard de Rule, and a charter by William de Sprouston. He is the first of the house who is more than a name, because he had the misfortune to be laird when Edward I asserted his harsh mastery over Scotland, resulting in outright rebellion, at first under Sir William Wallace. Before 1296 English and Scots normally lived in amity and freely intermarried; thereafter for 300 years there was hostility, bloodshed and recrimination. Sir Nicholas II's mother was Euphemia de Lisle and his part was that of a Scottish patriot. Moreover his wife Marjorie was a near relation of Marion Braidfoot, heiress of Lamington and Wallace's wife, for Blind Harry mentions Thomas Halliday's 'twa gud sonnis, Wallas and Rudyrfurd'.
Robert de Rotherford, valettus of Sir Ebulo de Montibus the Constable, was between November 4, 1310 and May 9, 1311 entrusted with instructions to Sir John de Weston, Chamberlain of Scotland, for the munition of Stirling Castle (CDS III N.210).
Sir Adam de Rotherfeld who was buried at Saundby in Nottinghamshire and made his will March 12, 1392/3 (pr Y May 12, 1393) and whose widow Meliora quitclaimed Saundby manor (SS 186, 28-9) is most unlikely to have belonged to the Hickleton family, which cannot be traced beyond the John Rotherford.
Richard de Rotherford was serving in 1311-2 as scutifer (esquire) in the English garrison of Roxburgh Castle in the contingent of lvo de Aldeburgh (Ib IIIN.405). His status is shown by his salary of 12d a day - three times that of a ranker - and the valuation of his horse at £20 at Berwick (Ib).
Sir Richard de Rutherfurde, lord of Rutherford, witnessed with Sir Henry de Baliol 1320-6 a charter by Walter the Stewart to John St Clair of the lands of Maxton (SHS 3s 21, 8). He attested in 1330 a charter by Cyril Saddeler to Kelso Abbey (Cal 381) another by Hugh de Douglas (Mort II, 90), He also held lands in the barony of Crauford Lindsay, Lanarks., which his son forfeited. Was Richard the esquire of 1311 above, or the man of this name who rendered account in June 1330 as one of the two Provosts of Stirling? (ER I, 266) Did the laird change loyalties? Since the later Sir Richard below, two generations after this Richard, was born c.1345, the elder Richard's birthdate would be c.1290 which means that he was probably a grandson of Nicholas II or at least of that generation; he could have been a son of Aymer who married in 1292.
Sir Richard Rutherfurd (c.1345-1424/5) is first mentioned as a knight witnessing a charter of Little Newton, Berws., dated between 1384 and 1388, by James second Earl of Douglas to Alexander de Newton (DB III, 399). As lord of Rutherford he attested John Turnbull's charter to a nephew at Minto December 8, 1390 (GS I N.814). Probably he fought as Douglas' liege at Otterburn in August 1388 when the earl was among many Scots slain after a pursuit by Hotspur on their return from a raid beyond Newcastle. Sir Richard's standing is shown by his being a borowe or pledge for the earl's bounds on the Middle March in October 1398 (CDS IV N.510). The key to Sir Richard's important position on the Border evidently lay not only in his strategically placed lands but in a marriage alliance with the Douglases. There is no reason to doubt Douglas' Peerage's statement that his wife was Jean Douglas; beside his witnessing a deed of the second earl and being a surety for the third earl's part of the Marches, it is much more telling that his release was sought by the latter's royal son-in-law. His relationship to the earls may have been close, but no Jean Douglas of the right generation among daughters of the first or third earls - happens to be known; the second earl, son of the first, was succeeded by a collateral. Our knowledge is incomplete, and the lady may have been a daughter, legitimate or not, of either earl.
The Escutifers of Archibald Lord Douglas
Archibald Douglas, 4th earl of Douglas, 1369–1424, Scottish nobleman, called Tyneman; 2d son of Archibald Douglas, 3d earl of Douglas. In 1390 he married Margaret Stuart, daughter of Robert III. He is the direct ancestor of the Hunthill Rutherfords. He held Edinburgh against the English when Henry IV invaded in 1400. In 1402 Douglas was tried and acquitted of the murder of David Stuart, duke of Rothesay, heir apparent to the throne. Later that year Douglas led a Scottish army against the English and was taken prisoner by Sir Henry Percy at Homildon Hill. He was then induced to join the Percy conspiracy against Henry IV, but at the battle of Shrewsbury (1403) he was taken prisoner by Henry and held until ransomed in 1408. From 1412 to 1422, Douglas continued his border warfare against England and was a member of several delegations of Scottish nobles who tried, unsuccessfully, to ransom their young king, James I, from the English. In 1423 he and his Scottish contingent joined the French against the English. He was made lieutenant general of the French army and duke of Touraine. In 1424 the allies were defeated at Verneuil, and Douglas was slain.Archibald was later known as 'the loser' because of the great number of body parts he lost not battles. At Homildon Hill in 1402 he was wounded five times and lost an eye, at Shrewsbury in 1403 where he lost a testicle and finally at Verneuil, France in 1424 he lost his life.On the 17th of August, 1424 Archibald 4th Earl of Douglas fell at the battle of Verneuil, along with the Earl of Buchan and the greater part of the Scottish knights who had accompanied him to France. The auxiliary force under his command was almost entirely annihilated. The celebrated Scots Guard, who were for a long time the attendants of the French kings, originated with the small body of Scotsmen who survived the disastrous battle of Verneuil. Margaret Stewart [d/o Robert III] was the wife of Archibald Tyneman, Earl of Douglas who died at Verneuil 8/17/1424 and buried at Tours Cathedral). Margaret was the sister of Elizabeth Stewart wife of James Douglas, Lord of Dalkeith
"Escutifer - In the middle ages a squire or escutifer carried the shield and other armour of the lord or knight he served, but this duty passed later to pages. Squires in this sense were of gentle family." Escutifer (Ger. Gutsherr, Junker; Ir. Scuibheir; Ital. Scudiero; Port. Morgado; Sp. Escudero) Usually this refers to the servant of a knight, a young person of roughly 14 to 21 who is learning the business of being a knight. It, and similar terms in other languages have been applied to landed gentry, owners of large estates who do not hold patents of nobility. The term derives ultimately to a phrase (Esquyer, Escutier) in Anglo-Norman meaning "Shieldbearer", and a variant of that has also remained in the language: Esquire.["The Dictionary of Genealogy" - Terrick V. H. Fitzhugh ]
The Battle of Verneuil
"At the bloody Battle of Verneuil in 1424, the Scottish contingents had acquitted themselves with particular bravery and self-sacrifice. Indeed, they were virtually annihilated, along with their commander, John Stewart..." "The new French army created by Charles VII in 1445 consisted of fifteen 'compagnies d'ordonnance' of 660 men each - a total of 9000 soldiers. Of these, the Scottish Company - the 'Compagnie des Gendarmes Ecossois'...was explicitly accorded premier rank over all other military units and formations, and would, for example, pass first in all parades. The commanding officer of the Scottish Company was also granted the rank of 'premier Master of Camp of French Cavalry'." "In 1474, the numbers were definitely fixed - seventy-seven men plus their commander in the King's Guard, and twenty-five men plus their commander in the King's Bodyguard. With striking consistency, officers and commanders of the Scots Guard were also made members of the Order of St Michael, a branch of which was later established in Scotland. "The Scots Guard were, in effect, a neo-Templar institution, much more so than such purely chivalric orders as the Garter, the Star and the Golden Fleece."[Baigent & Leigh, "The Temple and the Lodge" - chapter 7 - Arcade Pub. 1993]
The Escutifers of Archibald 4th Earl of Douglas:
- Sir George Rutherford of Hunthill was the progenitor of the Hunthill cadet and a survivor of the battle of Verneuil. Sir George was married to Janet Rutherfurd, perhaps of Edgerston. Chatto and Hunthill are ancient estates quite near each other in Roxburghshire, Scotland. The family was later styled "of Hunthill" in the lifetime of Sir George's son Robert. Sir George Rutherford of Chatto was the squire of Archibald Douglas, 4th Earl of Douglas. Sir George's son Robert of Chatto acquired Hunthill by marriage had confirmation of his late father's gift of Nether Chatto November 21, 1429 from Archibald Earl of Douglas, as his dear esquire (RCh), with Crown confirmation March 25, 1439 (Ib; not in GS).
- Sir David Home of Wedderburn - son of the Sir Alexander Home who was killed at the battle of Verneuil. Sir Alexander Home was Archibald Douglas' best friend. Sir David married his daughter Alicia. Sir George Rutherford (c.1380-c.1428), 'Georgius de Rutherfurde, scutifer' witnessed at Edinburgh shortly before February 29, 1413/4 a charter of Sir David Home of Wedderburn by Archibald 4th Earl of Douglas (GS II N.189).Sir David Home of Wedderburn got from his father the lands of Thurrston, and from Archibald Earl of Douglas, a grant of the Barony of Wedderburn in the County of Berwick, and a confirmation of it by the King, in 1413, for his military services, and who also appointed him his scutifer. He was Knighted by King James II in 1448, and appointed one of the Commissioners to treat with the English in 1449. He was Knight of the Golden Order. MSS. Hist. Died 1469. [From History of Dunbar Hume and Dundas from Drummond's Noble British Families, William Pickering, London 1846]
- Sir Robert Hop Pringill of Whitsun, to whom the Earl of Douglas gave a charter addressed "dilecto suo scutifero," was afterwards armour bearer and squire of the body of James, Earl of Douglas, at the battle of Otterburn, and held the same post to Archibald, the fourth Earl, afterwards Duke of Tourenne, whom he accompanied when sent to France with 10,000 auxilliaries to the assistance of the Charles VII, and lost his life, along with his master, at the battle of Verneuil, on 17th August, 1424.
- Sir Gilbert Grierson of Kirkbride married Janet Glendonwyn cousin of Robert Rutherford of Hunthill's wife Margaret Glendonwyn. Gilbert MacGregor, or Gregorson, took the name of Grierson, in accordance with charters granted, 1400, by George de Dunbar, Earl of March, conveying the Lands of Airde, Tyrcrome, Overholm, Netherholm, and Dalgarnock, in the Barony of Tybris, to him and his heirs male to be called by the surname of Grierson. He received from his cousin, Henry, Earl of Orkney, a charter of the lands of Lag, dated 6 Dec 1408, presenting for the same yearly to the said Earl a pair of gilt-spurs, at the Castle of Dumfries. In 1410, he received a Charter from Archibald, Earl of Douglas as armour bearer to the said Earl, "pro homagio et servito sub, of the Lands of Drumjoan." His seal bears the Arms "a lion rampant guardant crowned" and it may mean that he was a cadet of the Galloway family. He married Janet, dau of Sir Simon Glendinning, of Parton, by Lady Mary Douglas, dau of 4th Earl of Douglas, and the Princess Margaret, his wife, dau of King Robert III.
Other Family Members at the Battle of Verneuil
- Robert de Nisbet, son of Philip, was born about the year 1372. He married Margaret Home the daughter of John Home of Wedderburn, by whom he had a numerous family. He was slain on 16th August 1424 at the Battle of Verneuil in France when fighting with 4000 Scots under Archibald the fourth Earl of Douglas against the English, who were victorious in the overwhelming attack. Philip Nisbet of that ilk was the son of Adam Nisbet and Lucie Rutherfurd, daughter of George Rutherfurd of Hundalee.
- Alexander Lauder, 2nd of Hatton d. at Verneuil 17.08.1424 w/Archibald 4th Earl of Douglas his wife was Helen Douglas d/o Archibald Douglas, 4th Earl of Douglas same Lauder of Hatton line that James Rutherford I married into through Christian Lauder d/o John Lauder and Katherine Landells. Helen Douglas was the sister of Mary Douglas who was married to Sir Simon Glendonwyn ancestors of the Rutherfords of Hunthill.
- John Lord Stewart, Earl of Buchan, was the second son of Robert, 1st Duke of Albany (whose other three sons lost their heads for treason). The Earl was killed fighting as Constable of France at Verneuil in 1424. John Stuart, Earl of Buchan, b. abt 1381, died Verneuil 8/17/1424; m.1413 Lady Elisabeth Douglas – John Stuart was the s/o Robert III and brother-in-law of Archibald Tyneman, Earl of Douglas
- Sir Alexander Home, "the adherent of 4th Earl of Douglas..." [Burke's Peerage, page 1276]. Sir Alexander Home was taken prisoner at the battle of Homildon in 1402. David Home was about to accompany Douglas to France, and Sir Alexander Home accompanied him to the ship, when Douglas cordially embracing him, said, "O Alexander, I never could have believed that anything should have separated us;" upon which, Alexander replied, "Then let nothing ever separate us;" and persuading his brother David to return home, he left him in charge of his children, if anything should befall him: he accordingly accompanied the Scottish forces under the Earl of Douglas to France, and lost his life [and that of his son] with his leader at the Battle of Verneuil in 1424. [History of Dunbar Hume and Dundas from Drummond's Noble British Families, William Pickering, London 1846]
In More Recent Times
Sir John Rutherfurd (1687-1764) of that Ilk and Edgerston, Thomas' only son, baptized at Jedburgh January 2, 1686/7, was left 1000 marks in 1697 by his grandmother Barbara Abernethy and quartered the Riddell arms of his mother. He was admitted advocate July 3, 1707 and knighted in 1710, the first of his line to receive that honour for three centuries. He inherited in 1720 his father's estates except Nether Ancrum, and in 1738 made over his lands to his eldest surviving son John; in the latter year he was served heir of provision to Walter Scott in Wester Langlee (Roxburghshire services of heirs 1636-1837 N.207). He died in January 1764 (Roxburghshire services of heirs 1636-1837 N.323; Adv. had January 9, 1765). He married twice: in 1710 Elizabeth daughter and heiress of William Cairncross of Wester Langlee, who bore him 18 or 19 children; secondly at Edinburgh February 15,1740/1 Sarah daughter of Sir John Nisbet of Dean, Bart., widow of Capt. Walter Riddell of Granton, by whom he had two children.
Lord Ernest Rutherford - Baron of Nelson
1871 - 1937
born at Spring Grove [later called Brightwater] near Nelson, North Island
The Rutherford family moved about somewhat, from Brightwater, then to Foxhill, then to Havelock, and eventually to the North Island, Pungarehu.
Noble Prize in Chemistry in 1908
knighted in 1914 by King George V
awarded the Copley medal of the Royal Society in 1922
created Baron Rutherford of Nelson in 1931
post-humously The 104th element of the universe was named in his honor: Rf - Rutherfordium This artifical element was discovered by Ghiorso and coworkers. Atomic number 104
married Mary Georgina Newton in 1900
one child: 
Eileen Mary Rutherford wife of Sir Ralph Howard Fowler in 1921
Sir Ralph Howard Fowler 1889-1944 - Who Collaborated with Edward Milne in the 1920s developing a formulation of a reliable surface-temperature scale for stars of any spectral type.