The Shard Fortune
The Shard Fortune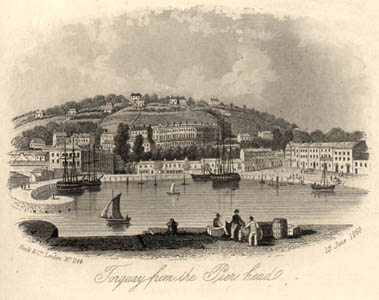 Mary Frances Rutherford's Home at Torquay
Frances Mary Rutherford
For organizational purposes, the 'Frances Mary Rutherford Archives' are a data base compilation which includes Columbus Smith's research, the records of the Lords Commissioners and the germane portions of the New Jersey State Archives. There is no singular locale for these materials. They are found in archival collections in Scotland, England, Ireland and America. The Columbus Smith archives contain much of the pre-revolutionary American history for our Rutherford family. The following is a work product drawn from dozens of primary and secondary sources. I expect this to be published in our family's next edition of "The Rutherfords of Roxburghshire". So, please bear in mind that the required citations and considerable more detail will follow.
The central informant for the Columbus Smith archives was Frances Mary Rutherford who died in England on May 16th, 1819. Fortunately for our Rutherford genealogy, she died wealthy, childless and without a valid will! Upon her death the Crown of England seized all of her assets until her next of kin could be established. The problem was that Frances Mary Rutherford was not English. Her family was Scots-Irish, Presbyterian and had emigrated to Trenton, New Jersey in the first half of the 18th century. Any heirs she might have were either living in Scotland, Ireland, or more likely, in America. As a result, her estate sat dormant for 39 years until her precise genealogy could be proven to the satisfaction of the Lords Commissioners of Her Majesty's Treasury.
The Lords Commissioners of Her Majesty's Treasury deal specifically with finance issues related to the Crown. Judges in the High Court are also known as Lords Commissioners of Justice. Following the American revolution, the British Crown had enpowered this court of pleas to hear the claims of American heirs to British property. In America, this type of court is often called a court of equity. The equity jurisdiction in England is vested, principally, in the high court of chancery. This court is distinct from courts of law, and when dealing with inheritance and peerage, is "a court of genealogy".
At that time, families living in the newly independent USA had no recourse for claiming an inheritance in Britain. American property law had no standing in an English court. Any American heir to a British estate was forced to come to London and present their plea before the Lords Commissioners of Her Majesty's Treasury. The proofs were those required in a court of law, and since inheritance is often the bi-product of genealogy, absolute proof of descendancy was required for the release of funds, property or titles. Several claims to Frances Mary's estate, one from Scotland and two from Ireland, had already been rejected for lack of documentation and claims of forgery. As a result, Frances Mary Rutherford's estate sat dormant until 1844 when a man named James Cook came into a lawyer's office and told him the story of Frances Mary Rutherford and her fortune. James Cook's mother claimed to be Frances Mary Rutherford's cousin. The lawyer was Columbus Smith and this became his most famous case.
The Trenton New Jersey Barracks - 1759
Columbus Smith spent the next 14 years pursuing this cause for the Cook family. He sailed between America and Britain six times researching the genealogy of Frances Mary Rutherford in an attempt to prove the Cook family claim. The claims being made by the Rutherfords in Scotland and Ireland, even though rejected, were also researched very thoroughly by Smith. This created an enormous amount of documentation, all of which were sworn depositions of the actual people involved. Smith interviewed the elderly neighbors of the Rutherfords in Trenton who, as young people, had lived and worked with the Rutherford family. He researched thoroughly the archives which are now known as the New Jersey State Archives when they were an unbound collection of legal records kept in the basement of the New Jersey State House in Trenton. Smith also went to Northern Ireland and made extensive interviews in Cookstown, Newry, Enniskillen, Strabane, Belfast and Dublin. He printed ads in the local newspapers which generated a large response. He then was forced to wade through a great number of respondants both legitimate and fraudulant. He was even approached by supposed Rutherfords who wanted to bribe Smith to "prove their claims". It was clear that the 'people trail' had grown cold in Ireland. He continued his research in Scotland and in England without satisfaction. A long time had elapsed between the Rutherford emigration and the 1844-1858 research period. None the less, the Brittish written records were very helpful.
Following the death of her husband in 1804, Frances Mary Rutherford had made personal inquiries into the whereabouts of her family. She had hired a local pastor in Trenton, NJ to make private inquires about her family. A few distant cousins were located. Frances Mary wrote to these cousins in New Jersey and they wrote her in return. These letters and others from America are also part of the Columbus Smith archives. Frances Mary Rutherford was none the less disappointed that most of her closest Rutherford kin could not be found. In her letters she had named these Rutherfords specifically and their relationships to one another.
Frances Mary was the daughter of Robert Rutherford Jr. a tavern keeper at his uncle James' Inn called the Legioner or Black Horse in Trenton, New Jersey. Trenton was the barracks site of several British regiments and the Legioner was a popular "watering hole" for Irish soldiers. When Robert Rutherford Jr's daughter, Frances Mary, was only 15 years old she was persuaded by Colonel John Fortescue to run away with him to Canada. This was sometime around 1773 and was a major scandal well remembered by Trenton residents. Colonel John Fortescue was Robert Rutherford Jr's former commander in the Black Horse Troop and it would appear that he did not object to the match.
Black Horse Tavern in Trenton, New Jersey
The Fortescues were one of the oldest families of Devonshire origin in Donaghmore, near Newry in county Down, Ireland. Four dominant families; the Moores, Chichesters, Fortescues, and Courtenays had come to Ireland from Devon in the early 1600s settling on the Crown awarded lands of Irish Catholic rebels. John Fortescue and his wife Susanna Chichester were the parents of Faithful Fortescue who was lord of the lands of Donaghmore, near Newry. He was also regimental Colonel during the 1641 Irish rebellion. Faithful Fortescue and his wife Anne Moore had several sons; at least four of whom were army officers. Colonel John Fortescue was their second son and had served in the Black Horse Dragoons under General John Ligonier in Europe and America. Ligonier, PA, Fort Ligioner and Fortescue, New Jersey are named for these two men. The extended Fortescue family is buried in the cemetery of St. Patrick's Church in Newry, County Down.
Colonel John Fortescue and Frances Mary Rutherford spent two years in Canada and from Quebec City the couple made their home in Paris, France. After some years of living in Paris, Fortescue fell into a deep depression and eventually commited suicide. Even though a marriage record was never produced, Frances Mary gained a significant inheritance from John Fortescue.
Following Fortescue's death, Frances Mary didn't remain in Paris but made her way to London where she used the title Lady Fortescue. Through her extensive social contacts she met a wealthy businessman named William Shard. These two were married on January 5, 1788. The Shards were very wealthy and owned two homes; one in London and one in Devonshire called Torbay House. William Shard died early in 1805 leaving Frances Mary Rutherford a rich and childless widow. Mary Frances died eleven years later on May 16th, 1819.
The Rutherfords were Scots-Irish immigrants who had emigrated to Trenton, New Jersey. Frances Mary's grandfather, Robert Rutherford Sr, was one of 3 or 4 siblings who had come to Trenton and nearby Philadelphia prior to 1721. The Cook family descended from the only daughter among these siblings. Frances Mary's two uncles, James and John Rutherford, also had descendants. Her uncle James left two known sons. Her uncle John left a son and a daughter. Frances Mary had four sisters and one brother.
The Cooks were in an inferior legal position to the paternal descendants under English law, but it was the Cooks who had made the plea. The paternal heirs could not be found in the period between 1844 and 1858. Frances Mary, Columbus Smith and the Cooks had no idea that these Rutherfords had either died or moved to Pennsylvania, Virginia and North Carolina. While her extended family was forging the new frontier, Frances Mary Rutherford had left America to live in Canada, France and eventually married in England. She and her English husband were very wealthy and their homes were the center of brilliant social activity in London and Devonshire. Their surviving friends and servants from this period [1788-1804] were also deposed and their testimony was part of the Cook family plea before the Lords Commissioners. Indeed, the records of the Lords Commissioners contain many personal letters and other records which were never entered into evidence or released. In this way, the Columbus Smith archive is echoed and augmented by the archival holdings of the Lords Commissioners in London.
Frances Mary Rutherford had communicated with family in America. One of these letters was eventually the "smoking gun" for Columbus Smith. This letter was found among the personal letters of Frances Mary which had been seized by the Crown following her death. It was written by a Cook ancestor and totally supported the genealogy [with an interesting twist] advocated by the family. This letter had been held with many others by the Crown and only Smith's untiring efforts produced its release. Finally on August 31st, 1858 Columbus Smith won his victory before the Lords Commissioners and about 1/3 of the total fortune was his fee. With this money he built a large mansion in Vermont called Shard Villa. The rest was divided between the descendants who had formed a family corporation to fund Smith's travel, research and advocacy. Columbus Smith continued his legal career in this way, researching and arguing the pleas of other American claimants to British estates.
Frances Mary Rutherford's grandfather was Robert Rutherford Sr. of Trenton, New Jersey. He, along with his sister, Martha Sarah Rutherford [married to George Davis Sr] and his brother James Rutherford Sr [married to Mary] had emigrated to New Jersey prior to 1721.
Black Horse Troop
Frances Mary Rutherford's father, Robert Rutherford Jr, was born in Ireland and had left his home following a fight with his brother to join the Black Horse Troop. Robert Rutherford Jr did not emigrate to New Jersey until serving in the War of Austrian Succession in Europe. Colonel John Ligonier had commanded the 7th Dragoon Guards for 29 years and it was at this time the regiment acquired the nickname "The Black Horse". Together with the 6th Inniskilling Dragoons, the Black Horse had taken part in the 1742 campaign in the War of the Austrian Succession, gaining honours at Dettingen and Fontenoy.
Robert Rutherford Jr was wounded at the battle of Dettingen and was returned to Dublin, Ireland to recuperate. There he met and married Margaret O'Brien between the years of 1742 - 1745. In 1746, Margaret Rutherford, their first child was born.
While Robert Rutherford Jr. was fighting in Europe his father and 1st cousin James Rutherford were settling land to the west of Trenton and Philadelphia. Included in this family group were the in-laws of Robert Rutherford, the Weakleys. By 1734 Robert Rutherford Sr, James Rutherford Jr and the Weakleys had purchased licenses from Samuel Blunston to settle land near present day Carlisle, PA. The settlement was located on the west side of the Susquehanna River at LeTort Spring. This was a dangerous area to live in during the 1730-1760 period. As a result, the Rutherfords were freeholders in New Jersey at the same time they held land in the Cumberland Valley. James Rutherford Sr. also continued to own a house in nearby Philadelphia and Robert Rutherford Jr owned the "Black Horse Tavern" in nearby Trenton. Through the period of the French and Indian War LeTort Spring was an armed fort and it was necessary to leave the area when hostilities arose. By way of the Pennsylvania Road, escape to safety was both easy and frequent.
The Columbus Smith Archives, the New Jersey Archives and the London Times [5/1856] all confirm that the Rutherfords of Trenton, NJ, Philadelphia, LeTort Spring and Cub Creek, VA are positively connected to Frances Mary Rutherford. Two legal transactions on 7/27/1759 and 11/6/1759 which are held in the Lunenburg County, VA records and in the New Jersey State Archives confirm this connection. "He [Dr. Thomas Cadwalader] conveyed the property [The Black Horse Tavern] on February 4, 1754, to James Rutherford, yeoman, who in turn conveyed it to Robert Rutherford, his nephew, by deed dated July 27, 1759." The deed refers to the grantee as "tavern keeper"; Robert Rutherford Jr. had been licensed to keep a tavern three years before.
Shard Villa
The names, dates and signatures correspond exactly with other primary sources in Lunenburg Co, VA. The progenitor of the Rutherford group in LeTort Spring, PA and Cub Creek, VA was Frances Mary's great uncle James Rutherford Sr. James was also the financial benefactor of her father Robert Rutherford. James Rutherford Jr and cousin Griffith Rutherford were raised at LeTort Spring and later migrated to Cub Creek, VA at the Caldwell Settlement. Over half of the neighborhood that had purchased Blunston Licenses in 1734 relocated to the Caldwell Settlement in Lunenburg Co, VA by the late 1740s. James Rutherford Jr and his son William are the only Rutherfords ever found on a common record accompanying the name of Griffith Rutherford. All three are listed together on the Lunenburg tithes of 1751.
Of course, the descendants of this family knew the bits and pieces of the story. Oddly, the single hint in 'the literature' comes from Minnie Long author of "General Griffith Rutherford and Allied Families". She relates the failed and terribly late attempt by Griffith Rutherford III to prove the name in Scotland:"Griffith Rutherford III was the fifth child of Griffith Weakley Rutherford and wife Elizabeth Johnson. Lived a while in Smith Co., then in Wilson. Later, financed by his brother-in-law Nathan Harsh, he gathered all possible information concerning the parents of General Griffith Rutherford, their starting to America, dying at sea, about the coat of arms embossed on some silver that had been saved. He gathered every possible evidence to gain recognition in Scotland. He went to New Orleans to take a vessel, but had yellow fever, and recovering found all his money and papers had been stolen. Returning to home he was so discouraged and broken in health that death soon followed."